expresscopy.com > Products & Services > Postcard Printing
Postcard Printing
Tell me about:
Fast, Affordable Digital Postcard Printing
from Your Design or Our Templates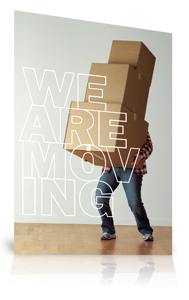 Example of one of our thousands of online postcard design templates which you can customize with your own images and text.
Looking for a fast, inexpensive way to have professional full-color (4/4) postcards printed and shipped directly to you?
You've found it!
We've been printing postcards since 1992, and have been chosen by our customers to print millions of online orders. expresscopy.com postcards offer:
$41 for 100

4x6 postcards
full-color, both sides
Same day turnaround
Order as few as 10 postcards
Choose and customize one of our online templates for free or upload your own
After your postcards are printed, we ship them to you via your choice of UPS Ground or UPS Next Day Air. Many orders placed in the morning are shipped the very same day, at no extra "rush" charge.
Looking for direct mail marketing postcards (where we print and mail directly to your customers)?
Postcard Printing Sizes
expresscopy.com prints four postcard sizes. Click the size that you need and the price calculator will update to show you more options.
Size 1:

Regular 4.25" x 5.6" Postcard

This is often also referred to as a 4 x 6 postcard, but the finished card is actually 4 1/4 inches by 5 6/10 tenths inches. That's quite a mouthful, so we typically call them "regular" postcards.
Size 2:

Jumbo 5.5" x 8.5" Postcard

Exactly the size of a sheet of office paper folded in half from top to bottom; it's twice the size of a "regular" 4x6 postcard. So if you're looking to make a much bigger impact, this size can help.
Size 3:

Panoramic 5.75" x 11.25" Postcard

This postcard size is a little longer and wider than a sheet of standard office paper folded in half lengthwise. This size and wide format really stands out when used for marketing purposes, and it's also a great size and shape for menu/specials cards.
Size 4:

Giant 8.5" x 11" Postcard

If these dimensions seem familiar, it's because they're exactly the same as a standard sheet of office paper. We print postcards in this size, but if you're looking for something this size or larger, you may also want to check our brochure printing options.
Postcard Printing Paper Options
Laminated Cover Stock
A high-gloss lamination is applied to our standard cover stock after printing. Lamination not only adds shine, it also adds durability, which can be very helpful when your postcard printing order is going to be mailed, or is something that you want people to keep around for a long time (calendars, schedules, phone directories, flash cards, re-usable coupons, etc.)
If you plan to address and mail postcards yourself, note that adhesive labels may not adhere to the lamination, and this stock cannot be run through a desktop printer or postage meter. If you would like to mail laminated postcards yourself, your best bet is our "print and address" service. See our dirct mail marketing postcards page for more information.
While this paper stock option is ideal for many re-usable items, it may not be ideal for some single-use printed pieces; laminated cover stock looks great and is very durable, but it cannot be recycled curb side in most cities.
Uncoated Heavy Card Stock
Our "heavy" card stock is a 10pt paper stock, heavier than the greeting cards at the supermarket. In printing lingo, a "point" is a thousandth of an inch, so 10pt paper stock is 10 thousandths of an inch thick. May not sound like all that much, but it makes for a very hefty postcard which is sure to be noticed.
TIP: Postcards printed and left uncoated have a smooth, matte surface, and colors come out looking bright and clear, with a surface you can write on with a pen or pencil.
Uncoated Cover Stock
Uncoated cover stock is very similar to the feel and weight of a typical greeting card. Left uncoated, this stock still rich colors, but is smooth and matte (not shiny). This is a great combination of weight and durability for postcard-sized printed pieces that will be handed out, rather than mailed.
If you have any questions about what any of our postcard stock options look or feel like that would be best answered in person, we would love to send you a free sample packet of our postcard printing options. Request FREE samples today
Postcard Printing Design Options
Create Your Postcard Online

Ready to order postcard printing but don't have a finished design? No problem!
Use our online postcard template system to select a design from our system. Add your own pictures, QR codes, text, and logo using simple forms, and viola! Your postcard is ready for printing in no time. Using our online templates and design tools is completely free. You pay only for the postcards we print for you.
Upload Your Own Postcard Design

If you, or someone who works with you is a graphic design genius and has already whipped up an eye-popping postcard design in Adobe Illustrator, Microsoft Publisher (or any other program which can export to Adobe PDF) then ordering postcard printing online from expresscopy.com will be a breeze. Just upload your finished design using a simple form, and let us know how many you want and where to send them. Easy!
If you're still working on a postcard design, or are about to upload one, we do suggest you take a look at our Postcard Print Specifications page for important details about margins, bleeds, color profiles, and resolutions.
And don't worry if your design is already done and you're not sure what a color profile is. Our VIP Support team will be happy to assist you in crossing the finish line, by phone at 800-260-5887, by email at support@expresscopy.com, or by live chat.
Postcard Printing Mailing Options
Shipping
We use the term "shipping" to refer to a postcard printing order where, once everything is printed we box it all up and ship it to you. You're free to refer to it any way you like, but know that if you see "shipped" rather than "mailed", it means you're expecting a big box of beautiful postcards delivered to your door.
Address and Mail My Postcards, Too
expresscopy.com postcards can be addressed and mailed directly to customers, too. Information about these services is available on our direct mail marketing postcards page.
Start My Order: