expresscopy.com > Products & Services > Mailing Lists
Reach the Right Audience for Your Postcard Mailing - Your List, Ours, or Both. Choose Below:


Mail to your existing customer or prospect lists, free of charge.
.csv, .txt, or Excel
Simple file specs
Re-use your list later
Free CASS and de-dupe

Grow your sales.
Increase your profits.
Create your leads by:
Any Geographic Area
Age
Income
Home Value
Own/Rent
Length of Residence

Find new customers and grow your sales.
Create your leads by:
Any Geographic Area
Type of business
SIC
Number of Employees
Sales Volume

Get fresh leads every week to drive more sales.
Create your leads from:
New Homeowners
New Businesses
New Movers
New Parents
New Marriages
New Divorces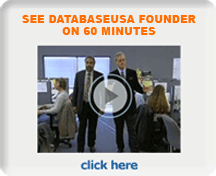 Why You Should Expect *Some* Returned Mail
Having mailed hundreds of millions of pieces of mail over the last twenty years, we've learned a lot about how to tell a good list from a bad one. We're very confident when we say the lists we offer through DatabaseUSA.com are among the very best in the direct mail industry.

Every record we make available to you has been rigorously screened and subjected to industry best practices for maintenance, including CASS (Coding Address Service System) and NCOA (National Change of Address) along with other proprietary methods to make sure that our lists will put your message in your customer's hands, not your mailroom.
However, even the very best list is subject to certain limitations, mostly due to timing. At any given moment, 15% of consumers are actively engaged in a move. Many others are getting married or divorced, and unfortunately, some pass away. For these reasons and others, even an excellent list that's been collected in the last thirty days will see a small percentage (5-10%) of mail returned.

When you're planning your direct mailing campaign, be sure to factor the rate of returned mail into your list purchase to be sure to hit your goals.
- expresscopy.com