expresscopy.com > Products & Services > Door Hanger Printing
Door Hanger Printing
Tell me about:
Make your door-to-door marketing look as professional as your direct mail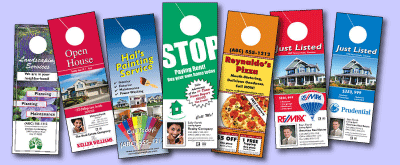 Dozens of Online Designs...or Upload Your Own!
Full-color, digital printing
Choice of 2 sturdy stocks
Same day turnaround time
Your choice of ground or overnight shipping
Low minimum orders
Affordable Pricing
As low as $.53 per piece, with no set up fees or bindery charges!
Door Hanger Print Sizes
One Size
All door hangers are printed in a standard 4" x 11" size, with a 1 1/2" circular door knob cutout and an angled separation to allow the hanger to be placed easily, but to remain in place until the occupant picks it up.
Door Hanger Paper Stocks
Laminated Cover Stock
Laminated cover stock is an excellent option for door hangers used in door-to-door marketing due the the fact that the lamination makes the printed piece weather-resistant. A door hanger printed on an uncoated stock may not be there (or may not make a good first impression) when the resident gets home, if it has been weighed down by rain and fallen off of the door.
Lamination may also be useful for door hangers that are intended to be re-used, such as "do not disturb" signs, as the lamination helps them hold up to repeated handling while still looking good.
Lamination provides a shiny surface that makes a very professional impression. The main trade-off with laminated cover stock is that your door hanger will not be able to be recycled curb side in many cities.
Uncoated Cover Stock
The same weight of paper as with the laminated cover stock, but without the lamination. Uncoated stock is still heavy and rigid, but has a smooth, matte surface which can be written on with a pencil or pen. This makes a great option when the door hanger will be used by the recipient for comments, or to order services, such as laundry.
Uncoated stock is about the same weight and feel of a standard greeting card.
Door Hanger Printing Design Options
Create Your Door Hanger Online

If you're ready to order your door hangers, but don't have graphics or a finished design ready, no problem! expresscopy.com has many customizable designs you can choose from and customize to suit your needs.
To create a design online for your door-to-door marketing, choose a category that matches your industry, and select Door Hanger (4" x 11") in the product type menu. You may wish to check out the designs in industries other than yours, too...most of the door hanger designs are customizable enough, you may find one for another industry that meets your marketing needs perfectly.
Upload Your Own Door Hanger Design

If you have a door hanger design that's ready for printing (or are going to have someone design your door hangers for you) you can upload finished designs directly into our system.
In order to get the very best results, we recommend you review our Door Hanger Specifications page for details on margins, bleeds, color profiles. All the technical things you need to know to get a great finished door hanger that will be sure to catch your market's attention.
Door Hanger Regulations
Local/State Regulations
Please be aware that some areas have restrictions on door-to-door marketing. Please check local regulations before beginning a door hanger campaign.
Start My Order:

Request Door Hanger Printing Samples