expresscopy.com > About expresscopy.com > News & Press
expresscopy.com News and Press
Noteworthy happenings here at expresscopy.com and among our partners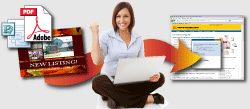 All New Upload Utility Makes Using Your Own Designs Even Easier - May 2010

Helpful prompts & instructions make the process faster & more intuitive
Improved PDF, Publisher & PNG starter files available directly from the utility
PDF proofs give you peace of mind that your piece will print exactly as you intend
As always (and unlike some competitors), no annoying "file upload" charges!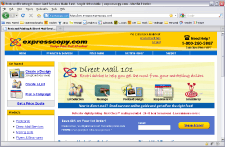 expresscopy.com Starts 2010 Off With Lower Prices and a New Website - January 2010

After seeing some hopeful economic signs in late 2009, chances are your business is looking at 2010 as a big rebound year. expresscopy.com wants to help with lower direct mail pricing for 2010. Same great quality, fast turnaround, and friendly service...just less expensive! We are also thrilled to announce our redesigned website. Featuring:
Easier-to-use design & order process
More direct mail & marketing expertise
New Product: Promotional Door Hangers - June 3, 2009


Link: http://www.expresscopy.com/door-hangers.php
Now your door-to-door marketing campaigns can look as professional as your direct mail campaigns! Full-color, 4x11" promotional door hangers are now available for as little as $.33 per piece.


Keller Williams & Pulse Mailing Announce KWLS Integration - Feb. 18, 2009


Link: /pulse-automated-real-estate-print-marketing
Keller Williams agents will be thrilled to know that now they can send their KWLS listing data directly to our Pulse Mailing service for automated Just Listed mailings. With a single checkbox on their KWLS dashboard, each new listing will be fed to their Pulse Mailing account!


expresscopy.com launches ExpressCampaigns
- Nov. 30, 2008
Link:
http://www.expresscopy.com/expresscampaigns.php
Officially launched at NAR 2008 in Orlando, expresscopy.com's new ExpressCampaigns service allows real estate professionals to create year-long keep-in-touch direct mail campaigns in just minutes
and
save 10% on all their mailings.
expresscopy.com launches online affiliate program with CJ.com
- Nov. 30, 2007
expresscopy.com is now an infoGroup company
- June 22, 2007
Press Release:
http://www.expresscopy.com/files/infousa-press-release.pdf
infoUSA (NASDAQ: IUSA), the leading provider of proprietary business and consumer databases, sales leads, direct marketing, and email marketing, today announced the acquisition of expresscopy.com. Vin Gupta, Chairman and CEO of infoUSA, commented, "We are very excited about adding expresscopy.com to our family. Their products and services are a perfect complement to our current sales leads. Now, our customers can get sales leads, printing and mailing all under one roof." Lee Dietz, President & CEO of expresscopy.com, commented "This is a great opportunity for expresscopy.com. We are proud to have the opportunity to provide the final piece of a turn-key solution with infoUSA."
New Product: Panoramic Size Postcards
- Jan. 18, 2007
Link:
http://www.expresscopy.com/extranet/wizard/portal/design_selector.php?sel_cat_id=357
expresscopy.com now offers our postcards in four different sizes. New wide-format 5.75 x 11.25" Panoramic size postcards give your graphics more room to shine and make a bigger impact in your customers' mailboxes. Several customizable designs are currently available online, or you may always upload your own designs (file specifications can be found
here
).
expresscopy.com Prints its 500,000th Job!
- Aug. 2006
We're very proud to announce that in August, 2006, we fulfilled our half-millionth order. And, as one of Oregon's fastest growing companies, we're well on the way to number 1,000,000.


RealEstateToolbox.com and expresscopy.com Form Joint Venture
- Sept. 9, 2006
Link:
http://www.realestatetoolbox.com/16/16/
expresscopy.com is the official volume printer of RealEstateToolbox.com. Anything from business cards, to postcards to fliers expresscopy.com has you covered!
Growing a Franchise at i9 Sports
- June 22, 2006
Realigent Signs National Agreement with expresscopy.com
- Feb. 10, 2006
Link:
http://www.realigent.com/press.jsp?pageID=24
Realigent took another step forward in its quest to provide every necessary tool for the real estate agent in a unified dashboard by signing a joint marketing agreement with expresscopy.com.
expresscopy.com Installs a Fourth Xeikon 5000
- June 27, 2005
expresscopy.com Expects New Xeikon 5000 Presses to Double its Revenue
- June 19, 2004
A PAGEFLEX Case Study
- Jan. 7, 2003
The Original expresscopy.com Home Page!
- March 30, 1997