expresscopy.com > Direct Mail Case Studies > Endres Gateway Dentistry


Cincinnati Dentist Eleanor Endres Uses a Steady Approach to Build Her Practice
Case Study: Endres Gateway Dentistry
The Challenge: Dr. Endres started her private dental practice in Cincinnati, OH, just three years ago. Her challenge was to generate a steady stream of new patients with limited staff and financial resources. Fortunately, expresscopy.com had the solution: an automated postcard campaign service that was easy, fast and affordable. Dr. Endres had a phone meeting with Stephanie Phillips, expresscopy.com's Marketing Campaign Manager, and within a few days, her first weekly postcard mailing was on its way. Once the campaign was set up, Stephanie took care of all the marketing details -- all Dr. Endres had to do was focus on caring for all her new patients.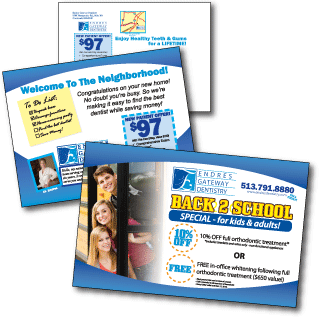 The Design: Dr. Endres "New Patient" postcard design is an eye-catching, vibrant, full-color postcard with a strong first time customer discount. Her design also includes her photo and a brief bio to establish credibility with her new patients. expresscopy.com's automated direct mail campaigns include professionally designed custom postcards to promote your practice. Dr. Endres has been thrilled that expresscopy.com's full-color, digital printing and laminated coating guarantee that her postcards get noticed when they arrive in her prospects' mailboxes.
The List: Dr. Endres had determined that the majority of her patients are homeowners with home values above $100,000 and live within 5 miles of her practice. Therefore, expresscopy.com partnered with Infogroup, the nation's most respected data provider, to supply her Targeted Mailing Lists. Geographic targeting is, of course, important to dental practices, but adding demographic selects such as age, income level, family status, etc. really unleashes the ability to target the exact patients your practice services. Plus our automatic de-duping and free CASS certification services ensure that not a single marketing dollar is wasted.
The Campaign: After working with her campaign manager, Dr. Endres agreed that mailing to 1500 area homeowners on a 5 week rotation would produce the desired results. Each household received 3 mailings before the list was retired and a new list generated. "Consistency is key with direct mail -- more new patients bring in the 2nd and 3rd postcard than the first," explains Dr. Endres.
The Results: "We receive a steady stream of new patients each month from our direct mail campaigns. Some patients hold on to the postcards for months before they make their first appointment. Most of our new clients bring the direct mail postcard in with them because it has our 'New Patient Special' on it, allowing us to track our results".
Why expresscopy.com? "expresscopy.com is easy to work with, their postcards are the highest quality, and they deliver the results we need."
New Dental Patient Direct Mail Campaigns

Let an experienced Marketing Campaign Manager handle your direct mail campaigns so you can focus on patient care. Reach 500 fresh, targeted prospects every 4 weeks with a custom, personalized 3x3 postcard campaign and save 10% off regular expresscopy.com prices.

Learn more about expresscopy.com New Dental Patient Campaigns >>