expresscopy.com > Business Marketing Solutions > Dental Practice Marketing
New Dental Patient Automated Direct Mail Campaigns
The Fast, Easy & Affordable Way to Grow Your Dentistry Practice!

Want a more profitable practice? Direct mail postcards are a proven marketing tool that will increase your bottom line and grow your practice more quickly. expresscopy.com automated direct mail campaigns drive new patients to your practice through continuous-drip postcard mailings to custom targeted mailings lists.

Whatever your specialty -- general, pediatric, surgery, or orthodontics -- we'll put together a campaign that is perfect for your practice.

View Larger | Request Samples
Make Sure Your Practice Grows as Fast as Your Patients!

Call 800.260.5887 or fill out our quick form below to learn more about new dental patient direct mail campaigns.
Let us focus on marketing so you can focus on patient care:
Complete Campaign Management
Your campaign manager will take care of all the details for you. Postcards will be mailed out automatically each week, ensuring that you follow the golden rule of direct mail: Be Consistent!
Professional Custom Postcard Designs
Each 3-touch mailing includes three agency-quality postcard designs customized for your practice with your logo, photos and core business values.
Custom First Name Personalization
We can uniquely personalize each postcard for the individual recipient. When someone sees his/her name on the design, it is proven that he/she will be more engaged, giving you stronger response rates and overall return on investment.

Fresh Custom Targeted Mailing Lists
Every 4 weeks, your campaign will reach 500 fresh, targeted leads in your area with a personalized 3-touch campaign.
Full-color Printing, Lamination & First-Class Mailing the Same Day
With full-color printing & free lamination, expresscopy.com postcards are eye-catching and durable. And with First-Class mailing service, your mailings can be in the hands of prospective patients before the week is out!
Affordable Pricing
There are no monthly fees or hidden add-ons -- your credit card is charged weekly for each mailing on the day it is delivered to the post office.
Direct Mail Gets Results!
See the effect a consistent, targeted direct mail campaign to new dental patients can have on your practice.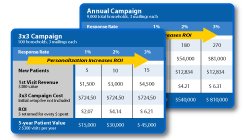 Case Study: Endres Dentistry
Don't take our word for it, read what a fellow dentist has to say about expresscopy.com's New Dental Patient Automated Direct Mail Campaigns: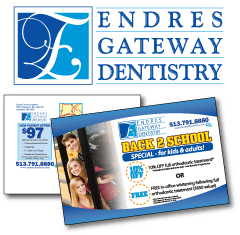 "expresscopy.com is easy and affordable to work with. Our direct mail campaigns have generated a steady stream of new patients over the past 18 months.
Dr. Eleanor Endres
Endres Gateway Dentistry