expresscopy.com > Direct Mail Case Studies > Biplane Productions

Direct Mail Goes Toe-to-Toe With Online Marketing...and Comes Out Ahead!
Case Study: BiPlane Productions
Customer: Ryan George
Company: BiPlane productions
Industry: Niche advertising agency serving real estate property auction marketers
The Challenge: "Auctioneers sell their clients on almost-impossibly short marketing periods that emphasize big, bold marketing blasts across lots of media. So, that means my company has to design, print, and mail in time spaces sometimes measured literally in minutes or hours instead of days or weeks. Because newspapers, Web sites, sign, and broadcast media share the budget - not to mention my composition fees - I have to give them materials that stand out over traditional listing media with a very limited budget."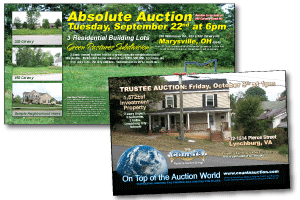 The Design: Ryan's an award-winning designer, and often needs to coordinate campaigns across multiple channels, so he uploads his own pieces.
The List: BiPlane's internal client list, with cards to be passed on to potential auction home and property buyers.
The Campaign: Provide auctioneer clients with professional postcards and brochures in advance of auctions.
The Results: "My clients have also told me that postcards and brochures they've printed have accounted for high percentages of the bidders at their auctions. While many pundits think online media is the way to save budget, my clients are spending more and more on direct mail, because of proven return on investment."
Why expresscopy.com? Same day turnaround with overnight shipping included allows Ryan to faithfully meet his clients' stringent deadlines, while our high-gloss digital printing ensures that even fast-turnaround pieces look as professional as offset printing. "expresscopy.com has come through in so many tight spaces for me - often mailing the same day I upload from here in Virginia. It's not uncommon for my clients, whose auctions spread across 40 states, to get glossy [laminated] samples to show their sellers and potential buyers the day after I design the pieces."
| | |
| --- | --- |
| | Learn More: Ryan's AdverRyting blog is full of his accumulated wisdom on direct mail, as well as online, print and broadcast media. Here's a post on why he believes so strongly in direct mail. |