Our hands-on training will help increase your sales and make Postcard Marketing even easier.
Expert postcard marketing advice for free!
Grab your office and twenty or more of your colleagues and one of our expert marketers will travel to your place of business to teach your staff how to grow your sales. Let's talk about your goals.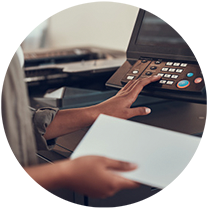 Come to Portland, to see your project print & mail
Visit our office-we'll pay for you to visit-and see for yourself!
Pack for the day and visit us in Portland to see how your project goes from our website to your customers. Let's plan your trip!