Our hands-on training will help increase your sales and make Postcard Marketing even easier.
Expert postcard marketing advice for free!
Grab your office and twenty or more of your colleagues and one of our expert marketers will travel to your place of business to teach your staff how to grow your sales. Let's talk about your goals.
Join a Scheduled Training:
Dallas, TX
2/18/2020
8:00AM CST
Dallas Marriot
650 North Pearl Street
Dallas, 75201


Las Vegas, NV
2/24/2020
8:00AM PST
MGM Grand
3799 S Las Vegas Blvd
Las Vegas, 89109


Nashville, TN
3/9/2020
8:00AM EST
Nashville Music City Center
201 5th Ave South
Nashville, 37203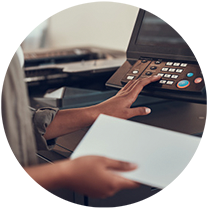 Come to Portland, to see your project print & mail
Visit our office-we'll pay for you to visit-and see for yourself!
Pack for the day and visit us in Portland to see how your project goes from our website to your customers. Let's plan your trip!