expresscopy.com > Products & Services > Business Card Printing
Business Card Printing - Make a Great Impression
Tell me about:
Full-color business cards on first quality paper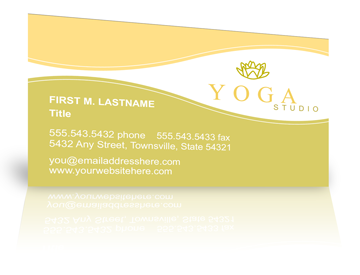 Example of one of our business card templates and ideas which you can customize with your own images and text.
Fast, affordable & professional, our business cards include:
Full-color, digital printing
Your choice of ground or overnight shipping
Same day turnaround
Low minimum orders
Bleed
What is a bleed? It may sound like something you don't want, but, in printing lingo, a "bleed" means that the ink (or toner) goes right up to the edge of the finished print. So, for instance, if you want a sky-blue background for your business card (classy, right?) and you want that background to span the whole width of the card, you'll want a "full bleed".
You may be asking yourself why it matters. Isn't a business card a business card? Sure! But, since most printing processes can't print right up to the very edge of a piece, we print a "full bleed" wider than usual, and then cut off a little of the extra to make it the usual size. A little extra work, paper, and ink (or toner), but you get a great looking card.
Our Business Card Specifications page has more information if you're still a little lost. We also welcome you to call 800-260-5887 and ask one of our helpful VIP Support representatives.
No Bleed
Chose this option if there will be a margin of at least 1/8th of an inch (0.125") between the edge of your business card and any printing you want.
Bleed
Choose this option if you have text or images, or a background color that you want to run right up to the edge of any side of your card on the front or back. Think of it this way...your business card starts out as a plain white background. If anything other than white will be printed right up to the edges (front or back) you'll want to select "bleed".
Paper Stocks
Laminated Cover Stock
Chose this paper stock option for your business card if you want a durable, eye-catching business card with a shiny surface. Business cards are laminated with slip film (which is more durable, but cannot be recycled in traditional ways). Slip film laminated business cards stand up to a lot of handling and wear, and are a great option if you are ordering business card sized item which will be used for a membership card, punch card, or other non business card use.
Heavy Cover Stock
We use 10 point cover stock for business cards, which provides a firm card with a smooth, matte surface.
TIP: Many people prefer the heavy cover stock option for their card when the ability to write on the card is important. The smooth matte surface of the heavy cover stock is perfect for pencil or ball point pen.
Color Options
Full Color
All of the business cards we print are available in full-color, whether you want full color on both sides, or just one. Full color printing on business cards allows you to design whatever you can imagine. Photos, gradients, semi-transparent sections will all print very well and make your cards stand out.
Black and White
Black and white printing is a great choice for a striking business card, or many customers choose a full color design for the front of their card, and then have the back printed in black & white with a simple message.
TIP: If you wish to have the front side of your card printed in black and white, choose the full color option for the front, and then upload or design your own black and white design on the system.
No Printing
Also better known as "blank", if you only want one side of your business card printed, we can leave the other side blank.
Sizes
One Size
We print business cards in the standard 2" x 3.5" size. Well, that was easy.
Design Options
Customize a Design Online

If you know you need new business cards printed, but either don't have a graphic designer, or don't think you want to become one, don't worry. We have hundreds of online designs you can choose from. Just choose a category that matches your industry, select a product type of "business card" and fill out some simple forms to customize the design with your information.
Create and Upload Your Own Design

Feel like designing your own business cards using Microsoft Publisher, Microsoft Word, Adobe Illustrator or any other program capable of PDF output? Please do! For the very best results, before you start your design please see our Business Card Specifications page for important details about dimensions, margins and bleeds. Following the specifications helps to ensure that your design prints as you intended and your business cards come out looking smart.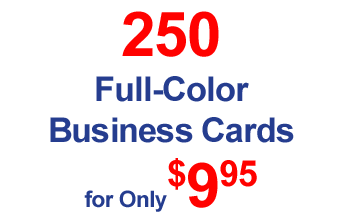 PROMO CODE: WEB5612
Start My Order:

Request Business Card Samples