expresscopy.com > Products & Services > Magnetic Business Cards

Magnetic Business Cards -
Constantly Showcasing You
Tell me about:
Full-color business cards on magnetic stock

Magnetic business cards keep you and your business top of mind constantly throughout the year:
Full-color, digital printing
Choose from 100's of templates, or upload your own
Printed on 17pt stock
Your choice of ground or overnight shipping
Same day turnaround
Low minimum orders
Expresscopy.com also offers magnetic postcards. Click here for more information.
Bleed
What is a bleed? In the printing world, a "bleed" means that the ink (or toner) goes right up to the edge of the finished print. This means, if you want a full-color background for your magetic business card, and you want that background to span the whole width of the card, you'll want a "full bleed".
While your local desktop printer might have challenges printint to the very edge, we actually print past the finished edge and then cut the piece down to finished size. Doing this requiress a little more work, a little more magnetic stock and toner, but the end result is you get a professional looking business card magnet.
Our Business Card Specifications have more information if you need a little guidance getting started. We also welcome you to call 800-260-5887 and ask one of our helpful VIP Support representatives.
No Bleed
Chose this option if there will be a margin of at least 1/8th of an inch (0.125") between the edge of your magnetic busienss card and any printing you want.
Bleed
Choose this option if you have text or images, or a background color that you want to run right up to the edge of any side of your magnetic card. Think of it this way...your magnetic business card starts out as a plain white background. If anything other than white will be printed right up to the edges (front or back) you'll want to select "bleed".
Stock
Magnetic Stock
We use a heavy 17 point stock for our business card magnets, which provides a firm card with a smooth beautiful finish. This magnetic stock will stick to most metal surfaces making sure your message shines every day.
Color Options
Full Color
All of the magnetic business cards we print are available in full-color. Full-color printing on business card magnets allows you to design whatever you can imagine. Photos, gradients, semi-transparent sections will all print very well and make your cards stand out.
Sizes
One Size
We print our magnetic postcard in the same size as our standard business card, 3.5" x 2.5" size. Well, that was easy.
Design Options
Customize a Design Online

If you know you need new magnetic business cards, but either don't have a graphic designer, or don't think you want to become one, don't worry. We have hundreds of online designs you can choose from. Just choose a category that matches your industry, select a product type of "business cards" & "front side" only, and use our simple forms to customize the design with your information.
Create and Upload Your Own Design

Feel like designing your own magnetic business cards using Microsoft Publisher, Microsoft Word, Adobe Illustrator or any other program capable of PDF output? Please do! For the very best results, before you start your design please see our Business Card Specifications page for important details about dimensions, margins and bleeds. Following the specifications helps to ensure that your design prints as you intended and your magnetic business cards come out looking smart.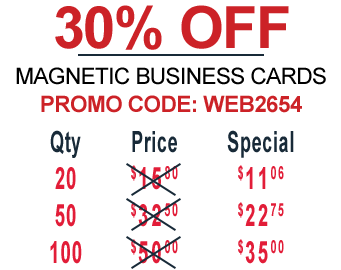 Start My Order:

Request Business Card Samples